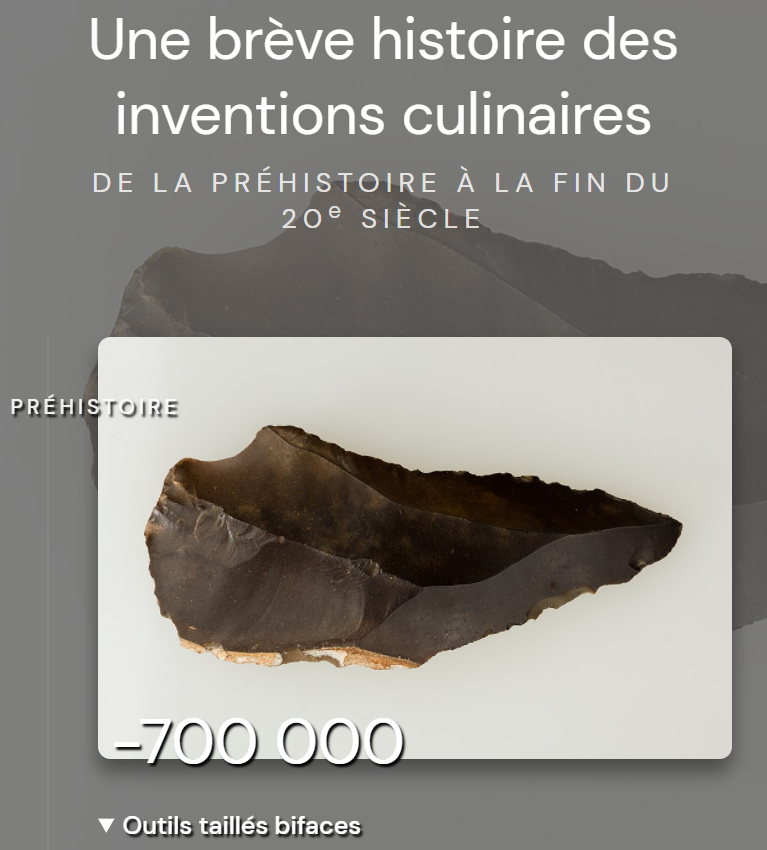 PROJECT DATE & PLACE
2021, Alimentarium food museum, Vevey, Switzerland
MY ROLE
Original idea / Identify and curate the content & format / Research / Coding
A BRIEF HISTORY OF CULINARY INVENTIONS – TIMELINE
This project stemmed from the necessity to convert written content to a new format. It had a few requirements:
 

convert

 

a chronological text list printed on a classical museum label to a digital format; enhance

user experience on

the museum website;

 

link

 

it to other knowledge-based content available on the website.
As a part of the permanent exhibition was being reallocated to a new theme, there was no room to keep the list of inventions related to food and cooking, and hence it was no longer going to be available to museum's visitors. As not to lose this precious information, my idea was to convert it to a digital format that would be accessible via the museum's website. In this way, the information would be accessible to even more people, and it could serve as an entry point to other knowledge-based content the museum's published online, offering a contextualised and broader understanding of the history of cooking.
What was once just a printed list of dates and inventions became an interactive timeline with illustrations, animated objects from the museum's collection and links to their individual technical sheets, as well as links to other factsheets and articles explaining different related aspects of food and cooking, etc.

 

All texts and information were sourced from various content the museum had already published online. Because the museum's policy is to publish everything in French, English and German, this timeline is also available in these 3 languages, and accessible from the dropdown menu on the museum homepage.
If needs be, given the programming languages used, it could also be made available in one of the interactive media stations that are part of the exhibition in situ.